Posted: Sunday, December 5, 2010 by
Kratik
in
Premiership, probably at the moment, is the most open league for anyone to win since its introduction in 1992. The emergence of teams like Bolton and Sunderland is making them competitors worthy of testing the best in the league. The league in my mind has stretched across a different range all-together, watching a resurgent Newcastle United side under Chris Houghton and a spirited Blackpool side under Ian Holloway, who in their own way have silenced critics that wrote them off even before the season kicked off. However, the question lies, is the league getting any stronger or in contradiction, getting weaker to such an extent that even an average side on any day can take points off so-called "The top four"?
Manchester United, Chelsea, Liverpool and Arsenal have clearly dominated the premiership; with Manchester United winning the league remarkably eleven times off the eighteen that the league has been contested. However, this season appears to be a bit different.
Manchester United
United, though unbeaten, have looked raged at the back and have already drawn seven games out of the fifteen that have been played. Johnny Evans, most notable, ever so brilliant looks completely out of sorts this season and has been criticized for United throwing away games at Everton and Fulham. United though have played smart in the transfer window getting in the likes of Javier Hernandez, Bebe, Chris Smalling and Gabriel Obertan and Sir Alex has been a magician over the years in getting the best out of the youth by playing them with the experienced players, one can't stop thinking that these players have been brought for the future and still have a lot to learn. Although, United were brilliant against Blackburn at the weekend but they still lack that touch of class that has been a feature of United's play since years. United for sure have weakened since the departure of Carlos Tevez and Cristiano Ronaldo. Though United might be stronger than what they were last season but they are definitely not the Manchester United we know.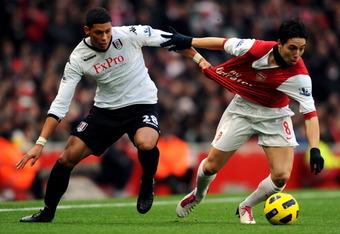 Mike Hewitt/Getty Images
Arsenal
Arsenal, though they look stronger than the last couple of seasons, they still are extremely vulnerable at the back and are horribly inconsistent to be even regarded as a serious title threat. Holding on to leads or finishing the game has simply gone out of the window since Henry-Veira-Pires era. Even though they play the best football in Europe alongside Barcelona but how many times have Arsenal been regarded as "bottlers who never reach their potential" and a side lacking mental toughness to challenge for top honors. The lack of experience and Arsene Wenger's fear of handling egos has lead to Arsenal fans not seeing silverware since five years. Arsenal though stronger than the last season but their problems continue to persist and are definitely not the once called "Invincible Gunners".
Chelsea
Chelsea, though played well at the start of the season, can't seem to get over the loss of four influential players in Ricardo Carvalho, Joe Cole, Deco and Michael Ballack. It is so evident seeing their recent form and vindicates the fact that it is a side that lacks depth. Chelsea also have an ageing core to their side in Lampard, Drogba and John Terry with the likes of Essien, who is either injury prone or not the players he once was. They might have Malouda and have brought in Ramires but they lack a flair player like Robben, Joe Cole or a Damien Duff back in the day. Except Josh McEachran and Bruma, who are a couple of the best young players in England, they lack players who can walk in to the first team, unlike United and Arsenal.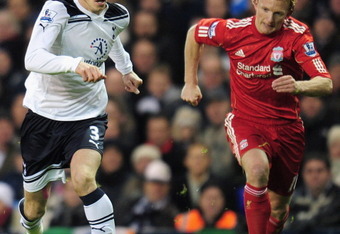 Shaun Botterill/Getty Images
Liverpool
As for Liverpool, I think even the Liverpool supporters wouldn't deny that this is the weakest Liverpool team to have played in the premiership. Gerrard and Jaime Carragher aren't getting any younger for the reds. They also lack replacements for Alonso and Mascherano. Poulsen and Raul Merieles are decent players but are they Liverpool quality, you have to question yourself. It's a puzzle in its own as to how Lucas Lieva is playing at Liverpool. Liverpool have simply failed to replace quality with quality. Aquilani was a quality signing who failed to make an impact. He is performing exceptionally well at Juventus during his loan spell and so, there is a strong chance that Juventus, who have an option of buying Aquilani will make his loan move permanent. Kelly and Shevley are good players but you have to think that they are too young and inexperienced to make an impact at the premiership level. I mean, just have a look : Riise out, Konchesky in, Mascherano out, Poulsen in, Alonso out, Lucas in, Crouch out, N'gog in, Bellamy out, Jovanovic in, Benayoun out, no one in. Signing average players like Konschesky and Poulsen, a manager in Roy Hogdson seems to be turning Liverpool into Fulhum than into the Liverpool of old.
Spurs and Man City
Manchester City and Spurs are the only clubs who are getting stronger every day but still don't look to impose a serious title threat. City with the owner Shiekh Mansour making multi-million signings doesn't seem to be getting desired results and it only underlines the fact that money can't buy trophies. Their title aspirations were questioned when City played for a draw at home to Manchester United. Having a manager in Harry Redknapp, Tottenham seem to be heading in the right direction. Spurs have a balanced side, with pace, experience, zeal combined with a team that plays some of the best football. But again, they majorly lack consistency. On one day, they teach the Champions of Europe a lesson; four days later, they get outclassed by Bolton 4-2 and the following week, they beat Arsenal at the Emirates 3-2. That's Spurs' story.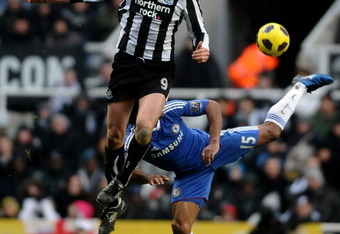 Laurence Griffiths/Getty Images
Rest of the League
For the rest of the premiership, Steve Bruce's Sunderland and Owen Coyle's Bolton has surprised a lot of people. Though they have won only four games this season, Sunderland have their tails up and their 3-0 victory against Chelsea has set a benchmark for anyone who wants to go to the home of the champions and literally insult the champs by playing better football for periods in the game. Sunderland have bolstered their squad by making top four loan signings in Nadeem Onuoha, Menshah, Elmohamady and Danny Welbeck, along with spending 13 million GBP on Asamoah Gyan. These are great signings who have performed well this season but you really have to wonder, if these players would have performed the same way had they been playing in the league five years ago. Same thing applies for Bolton, Fulham, Aston Villa, etc. and rest of the teams battling relegation; though saying that some of the managers like Chris Hougton and Ian Holloway have done a commendable job.
The fact of the matter is that the gap between the top four or now, the top six has reduced remarkably and it's not because the entire league has gotten stronger. This is because, the top teams have weakened to such an extent that they are becoming challenged by the teams that would normally not stand a chance to even compete and would finish mid table. These top teams often finding hard to get results even against the teams that might eventually end up getting relegated. For example, Arsenal lost to West Brom 2-3 at the Emirates and United played a 2-2 draw against West Brom at Old Trafford. Chelsea in the recent past have proved my contention by picking up only five points out of the possible eighteen.
The English Premier League has turned into a weird league but one that has turned into probably the most entertaining league in the world. The reason of the overall competiveness and weakening of the league is not due to the teams outside of the top four getting ever so strong, which admittedly is a slight factor, but because "The Top four" have not been replacing "older" players and creating a new fresh cycle with the same level of quality.