Posted: Tuesday, May 28, 2013 by
Kratik
in Labels:
Banana
,
Black
,
Chelsea
,
Didier
,
Drogba
,
Football
,
John Terry
,
Manchester United
,
Monkey
,
Nigger
,
Racism
,
Soccer
(
This has to go down as my most casually written, unedited article)
I remember writing this article 'The Support For Fabrice Muamba Shows Why Football Is Still The Beautiful Game (click to read)' for Goal.com and coming across this image (below) – of Jermaine Defoe being consoled by Gareth Bale after seeing Fabrice Muamba being stretched off the field – on Getty - Goal.com source for getting pictures for their article. After seeing this picture, there was no way that I could possibly not bring up racism in the article, especially after taking one of my favorite classes, the Sport and Media class, in which I learned so much about racism in America, at the Florida State University during my first semester here.
Recently, I came across an interview from one of my most loved players from one of United's rival teams (and trust me, there aren't many) and I absolutely melted reading it.
I won't edit it one-bit, this if for you to read:
Drogba: "It happened in the time I played for Chelsea. One day we had a public training and many fans were there to watch us. A young boy waved, so I just went over to him, I thought he wants an autograph.
"When I stood in front of him I asked him 'Hey young mister, do you want an autograph?' He called me a Nigger. His father got angry and told his son that he mustn't say this word. I told him i'll do this. I went on my knees and looked the young boy in his eyes and said 'Look, i'm black and you're white, now i'll show you something...' I took his hand and led her to my breast. 'Can you feel it?"
"I have a heartbeat - like you.
I have two hands - like you.
And I have two feets too - like you!
When I get hurt I say 'ouch' - like you do!
Do you realize something?
We're both humans, no matter if i'm black or white"
"The boy started to cry and ran into his father's arms.
He had tears in his eyes too. I gave the young boy my jersey as a sign of my respect!"
…Didier the man!
What a champ!
I remember when Chelsea won the 2012 Champions League final, it really didn't bother me as I saw Didier Drogba win. I hated it, but I didn't shut the door and try to sleep. I had a smile on my face in utter disbelief. Like Martin Tyler said after Drogba scored the penalty, "It was written in the stars."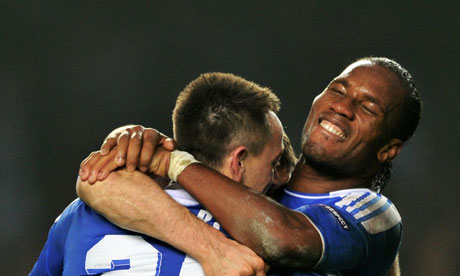 Whenever I have looked at Drogba, I have always got a positive vibe, quite opposite to that of the other man in the picture. Jose Mourinho has described his impact on the world as a 'person: as an 'African, as an emperor of the Ivory Coast, as a father, and as a son and as a friend'. And Jose has got it spot on: he has impacted the world as a person - as a human being. What a man Drogba is!
There are some things money can't buy and one of them is respect.
#RespectDidierDrogba
Follow me on
(Just click the Twitter logo)